Mantis shrimp are so named because they resemble a praying mantis, especially their second pair of thoracic legs, which have steering wheel-shaped claws with large spikes that can be flexed and extended with ease. They have a hard exoskeleton that covers their body from behind the head to the first four segments of the body, and they can grow up to 40cm long and weigh 250g. Mantis shrimp are widely distributed in tropical and subtropical seas worldwide, and are known for their colorful body and incredible strength.
Mantis shrimp are fascinating creatures that have been intriguing scientists and nature enthusiasts for many years. They are not actually shrimp, but belong to a separate group of crustaceans called stomatopods. These creatures are so unique that they have their own class in the phylum Arthropoda. They are also known as "thumb-splitters" by fisherman because of their powerful claws that can easily break through human skin.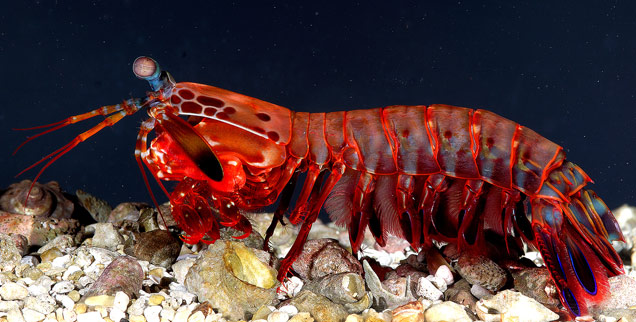 One of the most fascinating things about the mantis shrimp is their incredible strength. They have a unique weapon, a double-punching fist, that allows them to knock out their prey with incredible force. When they strike, they create two powerful shockwaves, one from their claws and one from the collapse of tiny air bubbles that form between their claws and the prey. Even if the first strike misses, the pressure wave from the collapsing bubbles is enough to stun or kill the prey.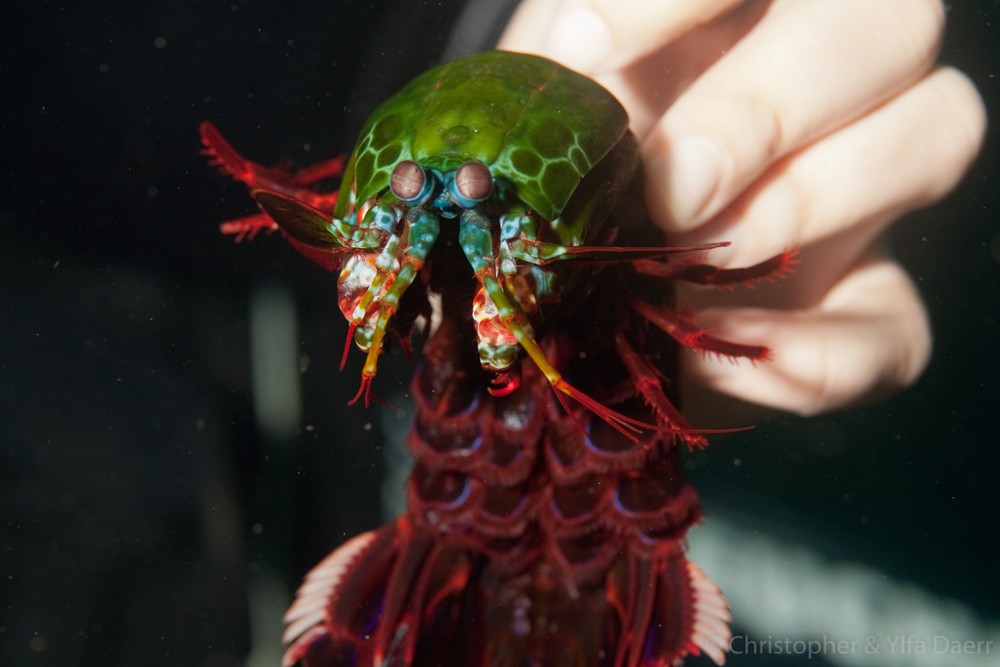 Mantis shrimp have excellent vision, which is important for hunting prey. They have compound eyes that can see a wider range of colors than humans, and they can also see polarized light. Their eyes are mounted on stalks that can move independently of each other, allowing them to scan their surroundings for prey and potential predators.
The mantis shrimp's colorful body is also remarkable. Their exoskeletons can range from brown, green, and dark black to light pink and yellow. The colors are not just for show, as they use their colors to communicate with each other and to attract mates.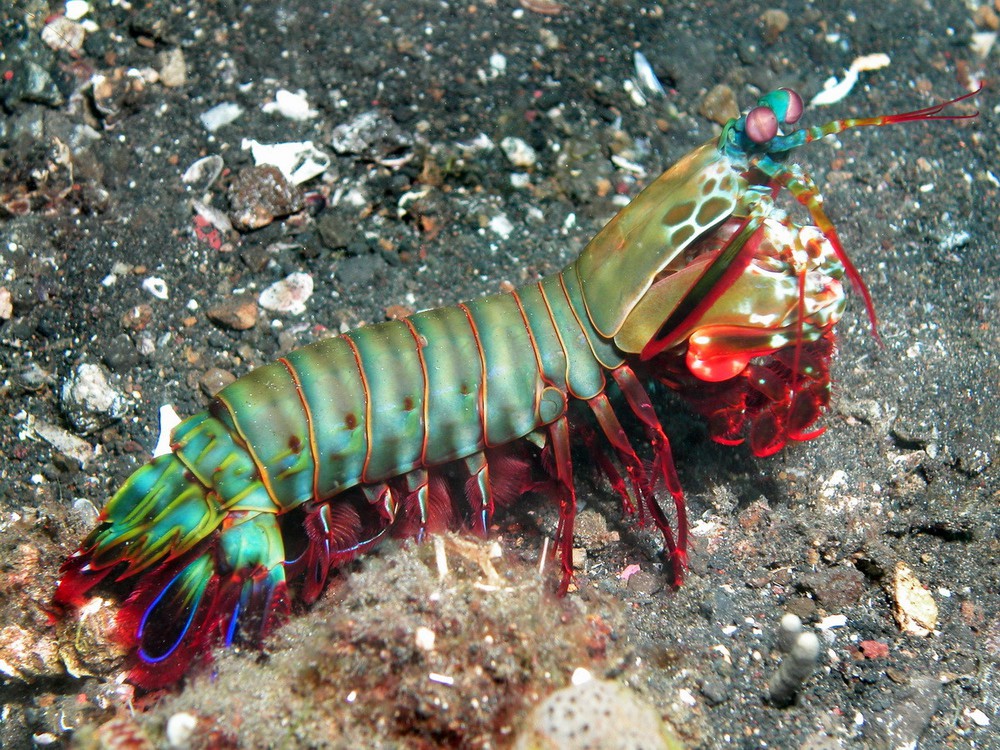 Mantis shrimp are carnivores, and they feed on a variety of animals, including small crustaceans, mollusks, and fish. They are also known to have cannibalistic tendencies, and will eat other mantis shrimp if food is scarce. Despite their ferocious reputation, mantis shrimp are actually considered a delicacy in many parts of the world, and are used in dishes such as shrimp cocktails and stir-fry.
In addition to their remarkable strength and vision, mantis shrimp are also fascinating because of their complex social behavior. They are known to live in pairs or groups, and have a complex hierarchy based on size and aggression. Larger and more aggressive individuals will dominate smaller and less aggressive individuals, and will often take over their burrows and mating partners.
The mantis shrimp is a fascinating creature that is both beautiful and deadly. Their double-punching fist is a unique weapon that allows them to take down prey much larger than themselves, and their complex social behavior is intriguing to scientists and nature enthusiasts alike. As more is learned about these incredible creatures, we may gain new insights into the mysteries of the natural world.